BPD consumers, carers and clinicians enjoyed a
free picnic lunch
, to celebrate BPD Awareness Week,
in the gardens of Karrayarta Drive Glenside
on Sunday 3
rd
October from 12-3pm.
Despite the rain, we enjoyed the chance to relax, chat and share some conviviality with others.
The invitation was open to anyone who lives with the symptoms of Borderline Personality Disorder (BPD) or cares for someone who does.
Sanctuary was delighted to co-host this picnic with the SA Branch of the Australian BPD Foundation.  BPD Co was there too, providing fun, creative activities.
We gratefully acknowledge the support of our partners, BPD Collaborative and the Mental Health Coalition of SA.
For lunch, a baked potato, a cold drink and unlimited coffee or tea.
BPD Awareness Week runs from 1st to 7th October every year.  This year, the theme is Discover Creative Wellbeing
Robyn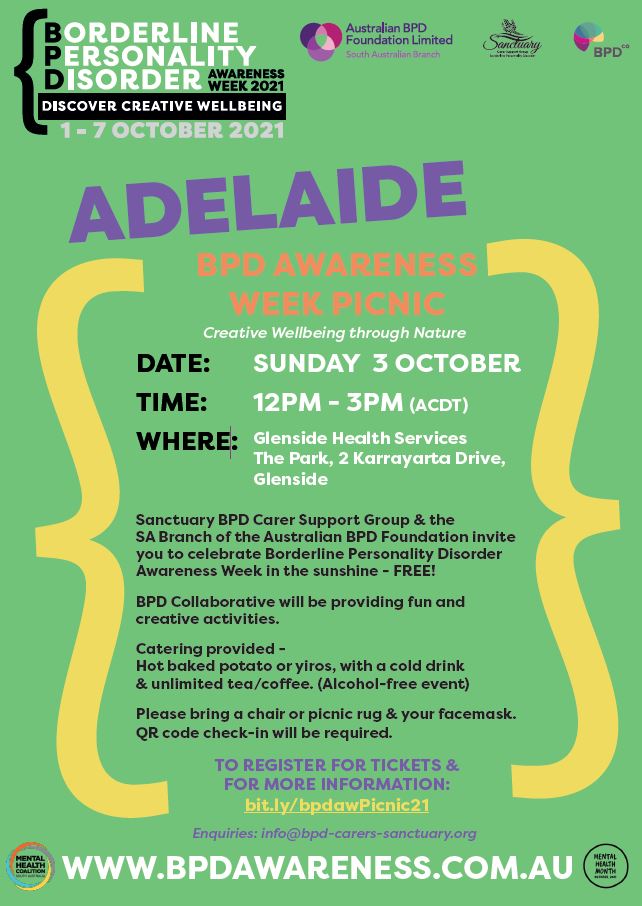 Photo by Alma Snortum-Phelps on Unsplash
Browse our Website by Subject
Main Subjects:  Caring for Someone with BPD,  Events,  Getting Help,  Living with BPD,  Research,  BPD in the Media
Other Subjects:  Advocacy, BPD Awareness Week, Couples and Families, Family Connections Course, National BPD Conference, New Member, Sanctuary Meetings, Treatment, Validation, What is BPD
Are you new to all of this? click here
This website is produced by members of the Sanctuary Support Group. We are not mental health professionals nor clinicians.  We are ordinary people who care for someone with BPD. This website is a collection of information that we have found helpful or of interest in the context of our own lived experiences. The content of this website is not a substitute for independent professional advice, diagnosis or treatment.
If there is a problem with our website, please contact us here